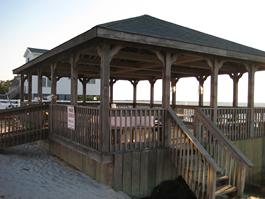 Photo via Google
Graffiti was carved into the pavilion
over the Memorial Day weekend.
A possible swastika and other graffiti carved into the wood of the Fifth Street Pavilion in Beach Haven over Memorial Day weekend will have to be sanded out by the public works department, said Beach Haven Police Sgt. Tom Medel.
"The very nature of it looks juvenile: writing a name, so-and-so likes so-and-so. Stuff like that. We're going to get that taken care of," he stated.
A video of what appears to depict kids defacing the pavilion was sent to The SandPaper

on

Tuesday afternoon.
Although the police check the pavilions and beaches diligently, usually once a shift every day, they have not been checked as often lately to avoid getting in the way of beach replenishment, Medel said. He urged the public to contact the police as soon as possible if they see anybody producing graffiti.
"Vandalism is vandalism. Criminal mischief is criminal mischief," he stated.
Adults can be fined for the incident and juveniles can be required to help fix the damage, Medel noted.
Also over the weekend, a toilet paper cover at the Centre Street bathroom had someone's name written on it in marker. Medel said it's "nothing unusual."